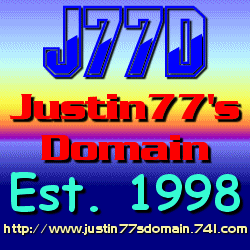 Welcome,
Thank you for dropping by, I started to develop this site and was up in 1998. Three years ago (2003) I made some modifications to it, and now the site goes by the name of Justin77's Domain. My site is generally about the sport I so dearly love and that's hockey, but it does have some other stuff here as well, such as episode summaries and web links to other sites, pictures and info on shows that I watched when I was growing up some that I do watch now. Enjoy your visit and inform others about my web page if you like, if you have any comments of suggestions, just email me at: justin77@mail.com, all emails welcomed.
Full House Retro Section Completed.
Frames Design Finished.
Still working on Image Section!
Join this Online Pool League For great Online Pool Fun:
EZ8 Pool, Check Yahoo Backdoors Pages for More Info.
Thanks to all who visited the site within the last year and a half, invite others to browse and here to celebrate the sites first 1 year on 741.Com, and looking forward to many more years yet to come.