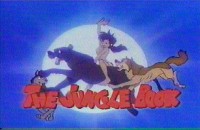 Last Updated: June 10th, 2008
Welcome to my Jungle Book Section!!
This section is devoted to the anime series that ran from September 1989 to October 1990 about a boy named Mowgli who was adopted by a loving family of wolves along with the help of a black panther, a black bear and a python. Here you will find episode summaries, lots of pictures, web links and also a listing of the characters, production information and the voices that made the characters come to life. Hope you enjoy your visit, please invite others to come on over and revisit some of your dearest memories of one of my childhood favourites!
---
Any questions, comments or suggestions, you may...
Email Me @ jmercer.83@outlook.com
THE STORY
The Jungle Book is an anime based upon a children's book, written by (Rudyard Kipling [1865-1936]) and narrates the story of a boy named Mowgli, a native from India, who was raised by wolves and other wild animals after his parents die. The series revolves around Mowgli's bitter-sweet adventures in the jungle as he tries to find his place in life - the boy's rejected by humans (who considers him a "demon") and by the wolves (his "brothers" and "sisters") alike. On top of that he has to deal with Shere Khan (a tiger) who's trying to kill him for reasons that are revealed throughout the story. His closest friends are Baloo (a black bear) and Baghera (a panther), who act as father figures and teach him the Law of the Jungle.
---
The Jungle Book Series Now
Available on DVD in North America
The Complete Collection: 52 Episodes (6 Discs); Weblink
The Beginning: The First 9 Episodes (Single Disc); Weblink
DVD Title: The Jungle Book: Adventures of Mowgli
Broadcaster (1990-93, Atlantic Canada)

Dubbing / Production Studios:
Every file on this site has been COMPLETELY SCANNED by:
Norton Security Suite
Online Episodes Can be found at these sites:
English Episodes on You-Tube Provided By: