FIEVEL'S AMERICAN TAILS
---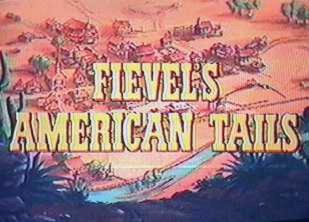 Fievel's American Tails is an animated television series, produced by Steven Spielberg's Amblimation animation studio, Nelvana, and Universal Studios. It aired for one season (1992 – 1993), and continued Fievel's adventures from the film An American Tail: Fievel Goes West (1991). In 1993 and 1994, MCA/Universal Home Video released eight episodes on four VHS video-cassettes and two Laserdisc volumes. These have been the only home video release of the cartoon. In the UK the 13 episodes series was released on six video-cassettes. The series has not been released on DVD (to date).
---
Original Television Exhibition: Fall, 1992 (1992-93)
Official TV Broadcasters: CBS TV
Production Companies: Nelvana, Amblimation & Universal Studios
Season Length: 13 Episodes
Seasons: 1
---
MAIN CREDITS
Executive Producer: Steven Spielberg
Created By: David Kirschner
Production Executives: Frank Marshall & Kathleen Kennedy
Produced By: Michael Hirsch, Patrick Loubert & Clive A. Smith
Directed By: Lawrence Zelig Jacobs
Voice Director: Kelly Ward
Casting: Maria Estrada
Music By: Milan Kymlicka
---
Series (13 Episodes)
| | | |
| --- | --- | --- |
| Show # | Episode Title | Original Airdate |
| 1. | Fievel, the Lonesome Ranger | tbd |
| 2. | Law and Disorder | tbd |
| 3. | Little Mouse on the Prairie | tbd |
| 4. | The Gift | tbd |
| 5. | A Case of the Hiccups | tbd |
| 6. | The Legend of Mouse Hollow | tbd |
| 7. | Babysitting Blues | tbd |
| 8. | The Lost Mother Lode | tbd |
| 9. | A Mouse Known as Zorrowitz | tbd |
| 10. | Mail Order Mayhem | tbd |
| 11. | Aunt Sophie's Visit | tbd |
| 12. | That's What Friends Are For | tbd |
| 13. | Bell the Cats | tbd |
---
"Fievel, along with his mother, his Yiddish-speaking father, and sisters Tanya and Yasha, lived in the American frontier town of Green River—in a mouse-made city under the humans' General Store. In this series of continuing adventures, Fievel was learning to become a cowboy. He was also trying to avoid the wrath—and stomach—of the shady, monocle-wearing Cat R. Waul, who, along with his naďve sidekicks Chula the tarantula and Sweet William, set up shop at the Morton Walton Funerals Building.
Fievel had some assistance from Tiger the Cat, his occasionally bashful feline friend, who always kept an eye on the tiny mouse. Other members of Fievel's multicultural community were an Australian mouse named Jack and a Hispanic mouse named Jorge.
The prominent themes in Fievel's American Tails were ones of respect and peaceful coexistence, concerns just as important today as they were in the Old West. Fievel, ever the model mouse, often set the example by placing friendship and respect above everything else. But kind hearts and well-placed lessons couldn't compensate for struggling ratings, and Fievel's American Tails were cut off after a single season."
Special Note: The above information has been quoted from Wikipedia and Toonarific Cartoons; "Fievel's American Tails Sections".